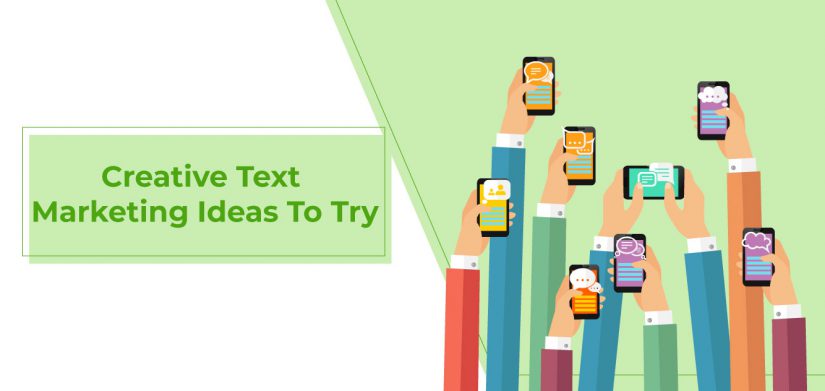 Creative Text Marketing Ideas to Try
Marketing is all about creativity. Creative text marketing ideas help make your text marketing more efficient. Instead of using salesy language that most people will not look at twice, you should use imaginative strategies to make your messages more appealing to the user. More importantly, it will get your word through.
If you are looking for ideas, look no further. We have a couple of ways how you can meet the full potential of text message marketing.
Creative texting campaigns ideas
Kickstart your text messaging marketing with creative text marketing ideas! The sky is the limit, so feel free to change them up according to your brand/business.
Exclusive sales

Everybody loves feeling important. Consider sale campaigns for your subscribers only. This is by far the easiest way to attract customers that are in your database. Moreover, it helps build a strong lead database.



To make it more effective, create a sense of urgency. Set a time limit for customers so that they can claim the offer as soon as possible.

Running exclusive campaigns allows subscribers to stay on your list. Moreover, you can advertise the fact that whoever subscribes, will get a hand at exclusive discounts. The combination of ROI and increasing database can do wonders for your business.

Limited time offers

Nothing beats the ads that create a FOMO in people. The Fear of Missing Out or 'FOMO' creates a sense of desire and urgency in your audience. It makes them feel like they will miss out on something special if they do not get a hold of what you are offering.

Adding a deadline or any kind of urgency can bring about a great turnover to your text marketing campaign.

Tips

Everybody looks for value in whatever they invest. Similarly, when a customer opts in to join your subscriber list, they look for value too.

Sending tips related to your field of business may just give them what you want!

But hold on!

Sending tips does not mean bombarding the receiver with messages. Be clear on your frequency and every once in a while, send them the value for their choice. Additionally, this will help them keep your business fresh in their minds.

Contests

Who doesn't love contests – and more importantly, winning! Hold contests through texting. Text-to-win campaigns are easy to hold with ExpertTexting. Simply, create your campaign and you are good to go. However, do not forget the terms and conditions.

Advertise this campaign on your social media or through other traditional advertising methods. To make it even more efficient, do not let anyone down. Moreover, give a consolation prize to the participants so that they have a reason to come back to you.

Review Requests

One of the best ways to use Mass texting is to add review requests. Request your audience to write reviews for your services. These will help you spread a positive word for your business. Additionally, you can also offer a special offer against one review.

For example, offer a discount voucher when they post a review.
Conclusion
The best thing about text messaging is that there are several ways to hold creative texting campaigns. These campaigns help boost your business. Moreover, with an open rate of over 95%, text messages are the best way to get the word out about your business. Begin with ExpertTexting today to take enjoy mass texting.