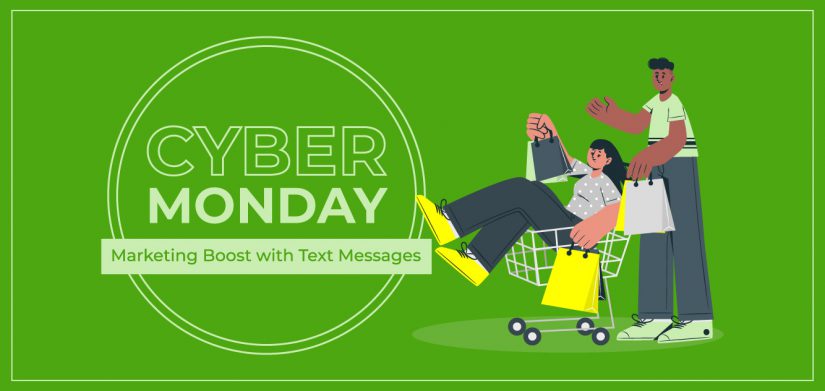 Cyber Monday Marketing Boost with Text Messages
Cyber Monday is almost here and this year, it is just going to get bigger. If you have done your part as a business on black Friday, then you cannot miss out on Cyber Monday. A lot of businesses might not know this but a whopping $9. 4 billion was spent on Cyber-Monday compared to $7.4 billion on Black Friday. Hence, we can see that Cyber-Monday is a fruitful day and you should be on board with it. One of the best ways for cyber Monday marketing is through text messaging. Read on to know more about it.
In 2019, a study showed that 69% of online shopping websites were made on mobile phones and for mobile phones. Another study showed that 70% of the web traffic we have every day is from mobile phones. These stats just make sense thanks to the smartphone world. Hence, eCommerce and online shopping have made it into the hands of the customers which adds to the convenience.
Another reason why Cyber Monday can be big this year is thanks to the coronavirus that has taken over the world. While we have advanced by having vaccines, there is still a thick chance of people taking precautions and some places have severe lockdowns too. Hence, neglecting cyber Monday is like leaving money on the table for someone to take.
So how to go about Cyber Monday marketing with text messages? In this article, we are going to tell you in detail about everything you can do. Moreover, we will tell you how ExpertTexting can help you through the process.
Before Cyber Monday
Cyber Monday is going to be a huge day for your business. Hence you should not begin on the day of the action. Ideally, you should begin a few weeks to boost your marketing even more efficiently. In this section, we will tell you what you should do before Cyber Monday.
Create your list
If you wish to use text marketing to boost your Cyber Monday sales then you should know that text marketing is based on subscribers' permission only. This means that you can never send messages to anybody who has not given you some type of prior express consent. Hence, you will have to build your list sometime before so that you can send messages to those subscribers.
ExpertTexting allows you to build your list so that you can reach out to your customers. You can use our keyword, QR code, signup widget, or click to join feature to create your list.
Engage your subscribers
When you have subscribers, you want to keep them engaged. This means that you need to send them messages. Before we talk more on the topic, it is important to note one thing. The frequency of the messages should be defined already. Your subscribers should not be bothered by messages more than they are promised.
With this in mind, try to engage your customers. You can do this in several ways. You can put daily reminders or every other day.
One of the ways to engage your subscribers is to make the most out of your auto-response that is set against your keyword. You can add your thanks in this message. Moreover, you can add your URL as an announcement for your Cyber Monday sale.
You can also hold frequently polls, surveys, and other material that will increase your response rate. This way your customer remains in the loop. For additional value for money, send informative texts. For example, if you are a part of a computer shop then you might want to send in some tips and tricks.
Moreover, you can also use this time to build up the sale that you will have on Cyber Monday.
So, how many messages are too many messages? That should be your next question.
Setting the frequency can be tricky. You want to send enough messages that the customer remembers you. However, not so many messages that the customer gets annoyed and opts out. Just send the ample number. This depends on your campaign and your industry. No matter what the number, make sure to clear it up and never send a message more than that.
The big day – Cyber Monday
Now that it's Cyber Monday, there are plenty of things you can do. You have worked for this day, you built upon it, and now is the time you take action.
Let your audience know that your sales and deals are live. Getting the work down before Cyber Monday helped you build-up to the day. Ideally, now you have an eager audience ready to give your business their money.
On the day, make sure to send a message early on reminding them of the live sale. If you are giving exclusive offers as mobile subscribers, then make sure to mention that in the sale. For example, if you are holding a flash sale, tell the subscribers a unique promo code for being a part of your list.
On the same day, when you have a short time left in the sale, make sure to send in one last message to lure in your customers.
However, the question is how you can manage your text messaging during shopping time.
Achieve this through the ExpertTexting API. The ExpertTexting API allows you to automate your process and send shipping, delivery, confirmation, and even abandoned cart messages.
After Cyber Monday
You can choose to be done after the big day. However, if you want to take it up a notch then working post-Cyber Monday is also very important. You do not want your customers to think you were using them for the day only, right?
There are two ways you can go about it. The first thing you can do is simply thank your customers for participating in the sale. This will help make your business reputation more intact and friendly. Make it better using ExpertTexting. ExpertTexting allows you to send personalized mass texts. Watch the video to know how you can achieve it.
The second way is to extend the sale by a certain time exclusively for subscribers. With this, you will ensure customer retention and give an incentive to others to join your texting base. Hence, there is a good chance you will get stronger leads.
Get started with ExpertTexting
ExpertTexting is a mass texting service that will help you this Cyber Monday send your message across. Cyber Monday is all about sales and communication with your customers. The fastest medium is text marketing. Hence, it is important to manage your communication with a direct channel that is highly reliable. ExpertTexting is your partner here! You can send mass texts in less than a cent. Only pay for what you send out with our pay-as-you-go pricing.