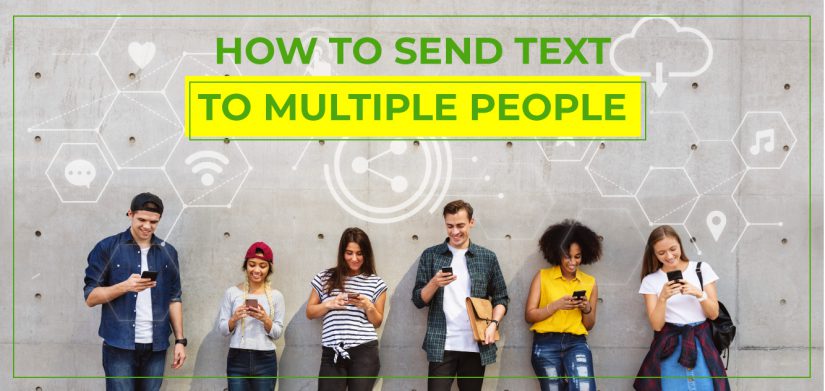 How to Send Text to Multiple People
One of the best ways to reach out to a group of people is through mass texting. Mass texting refers to the act of sending one message to the masses. You can use this method for marketing, communication, or for another reason. Here, we will tell you how to send text to multiple people.
To send out mass texts, you need a special service. You will have to sign up for this service to send out messages in one go. ExpertTexting is one such service. It is one of the most reliable and most affordable services out there. In this guide, you will learn more about ExpertTexting and Mass Texting.
Isn't Mass Texting Group Texting?
One of the most common confusions is between mass texting and group texting. When you refer to mass texting, it is reaching out to the masses. You can send hundreds and thousands of people messages with the click of a button. Moreover, sending these messages comes under the law of telecommunication marketing. You have to adhere to these laws to be able to send these messages out.
Group texting, on the other hand, is quite different. In group texting, you make a group on your phone and send out messages. In most cases, these text messages change in MMS when you make a group. However, these are for private purposes and may not have airtight laws. These messages are called peer-to-peer and are for your leisure and communication. As long as you are not marketing your product or using it for business purposes, you can use group texting with your phone as you like.
Why is mass texting important?
Mass texting is an important aspect of marketing and communication. There are benefits of it which define its importance. A few handpicked are given below.
Texting is welcomed by all

Texting is a worldwide thing! It is easily welcomed by every almost everybody. A lot of people prefer texts over phone calls and even emails. Perhaps this is why the open rate of texts is up to 95% while emails stand at 20% only. Even the people that frequently check their emails may miss out on important ones because they get buried under spam and junk mails.


Texting is inexpensive

Texting is one of the most inexpensive ways of communication. Even if we look at peer-to-peer plans, they are generally very reasonable all around the world. When we look at mass texting, it is overall, quite affordable. Instead of spending money on ads, billboards, newspapers, and more, you can use mass texting for advertising.

Most of the mass texting services have packages and plans. These plans have a limited number of messages in them. However, if the plan expires your money goes to waste. Moreover, if you use up your messages, you will have to buy extra. ExpertTexting offers prepaid services. Our pay-as-you-go service only charges for the messages that you send out. Moreover, the credits do not expire. As long as you keep texting, your credits are there.


Mass texting is a 2-way communication

What marketing channel has two-way communication? The only way of communication for the audience is through sales and measuring KPI. Mass texting is a little different and very much advanced in this regard. This marketing channel allows two-way communication. While not many services may offer this, ExpertTexting does! ExpertTexting allows you to enable two-way communication so that your audience can reply to you. There are plenty of benefits that come along with this feature. You can interact with your customers, request feedback, hold contests, and the limits are almost endless.
How to send mass texts?
Sending mass texts is not very difficult. Here are the basic most steps that you need to follow so you can begin mass texting.
Choose a service provider

The first thing that you need to do is to pick out a service provider. There are many which may be confusing for you. However, you need to make sure that the one you choose meets all your needs. The reason why ExpertTexting stands out is because of its very reasonable price. Compared to all others, ExpertTexting offers just one-third of the price. Moreover, it is easy to use and does not have complications.


Build your list

When Mass texting, you can not blindly send messages to random numbers. The number one rule is that you recipients should express prior consent to receive these messages. Hence, you have to build your list. You can print out the QR code of your keyword and stick it everywhere. Or, you can also use traditional mediums like social media to advertise your keyword to make your subscriber's list.

ExpertTexting allows you to even put a signup widget on your website. This widget works as a form. Users can simply enter their information and be a part of your list.
Where does ExpertTexting stand in all this?
ExpertTexting is a service that allows you to send a mass text to your audience. We have tight terms and conditions to ensure that you send messages as per the TCPA and general laws around marketing. The process is simple, you can see it in the video below.