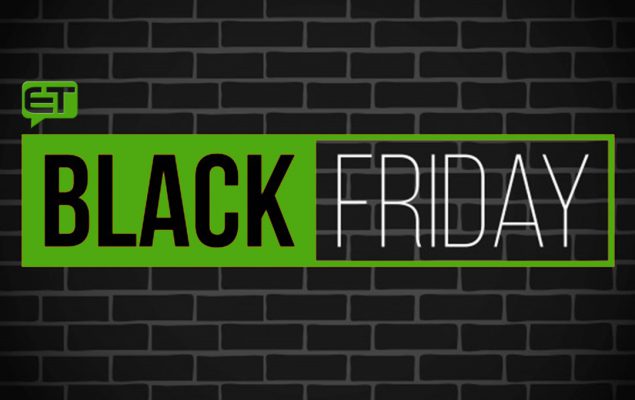 Mass Texting Tool to Boost Your Black Friday Sales in 2019
Black Friday is one of the biggest shopping events of the year. If you look around, you can see Black Friday sales and marketing campaigns everywhere especially on mobile devices. Mass texting is now one of the most trending marketing channels and what better way to promote your latest offers and deals this Black Friday than with mass texting? Over 96 percent of Americans own a cellphone of some kind which amounts to roughly 314 million potential customers. Plus, 98 percent of all marketing text messages are opened, so sending them out on mobile devices makes a whole lot of sense, which is why so many retailers and businesses have started using it.
Let us look at some of the statistics which support the potential of Mass texting for sales promotion and activities;
49% of American consumers use mobile phones for shopping.
48% of consumers prefer to receive business SMS as compared to apps, emails and direct mail.
61% of American consumers use their mobile devices in stores to compare prices.
A higher screen resolution on modern devices results in a $1.18 higher order.
In 2019, over 65 million people in the US will use mobile payments.
Smartphones will make up 38% of all US online sales in 2019.
Nearly 53 million American still use feature phones and do not have access to the internet.
How to Use Experttexting to Execute Mass Texting This Black Friday
Thousands of Businesses from different industries use Experttexting to deliver sales alerts to customers, as well as exclusive coupons, discounts, invites and much more. This helps to not only expand their customer base for future events but also builds customer loyalty to ensure that these customers return for more. Social media does play a significant role in keeping your audience up to date with what is happening in your business but it is not as direct as mass texting. We have seen in the previous seasons that mass texting allows businesses to alert customers during the previous seasons from the start of Halloween leading to New year which marks the end of the holiday season. The responses have been incredible as businesses sent out seasonal deals easily, quickly and even earlier than before. With our Short Code service and features like Keywords, QR codes and Sign-up Widgets, you can creatively get more people to subscribe to your campaigns for the future. Plus, you can also measure the click-through rate of hyperlinks leading to your store, event or social media page. This means better responses, bigger sales, satisfied customers and relieved business owners this holiday season.
Below are some great examples of how you can use mass texting to drive customers to your business on Black Friday and future events;
1. Promo Codes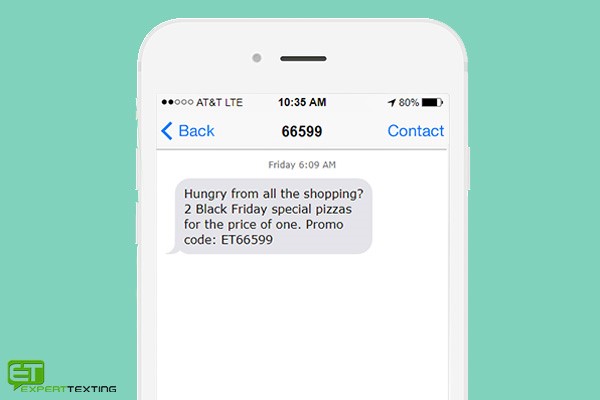 Texts featuring promo codes have become ubiquitous to the online shopping experience. Customers love discounts and they look for the best possible deals they can find. So, why not just place your deals right into their fingertips so they don't look anywhere else?
2. Hyperlinks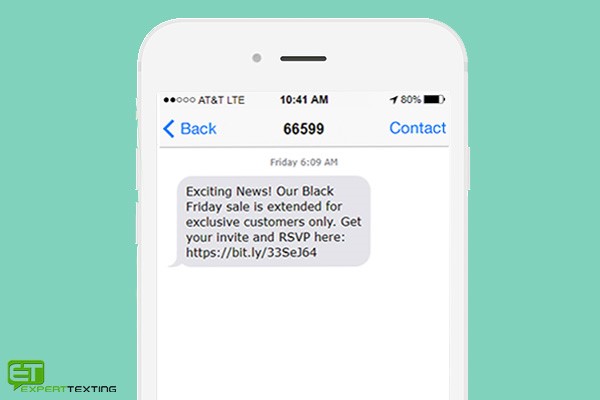 Text messages are brief and concise as they should be. However, adding hyperlinks leading to your website, social media, videos or location can boost your marketing efforts to new heights. So, you can briefly inform customers regarding your Black Friday deals creatively and with the hyperlink, you can share the details. Plus, you can also measure the click through rate just to see how effective your campaign was.
3. Call Backs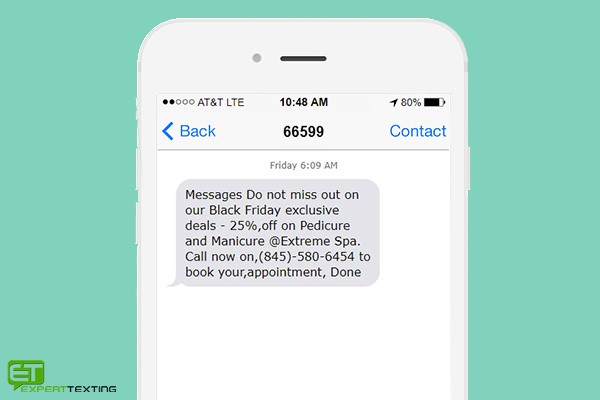 Many businesses like spas, salons and other appointment-based businesses rely on phone orders or appointments. Mass texting can encourage customers to call back before or on Black Friday so you can simply add your call back number in the text you send out to them.
For more information regarding how mass texting can help you with Black Friday or any future promotion, you can give us a call on (845)-580-6454. Our team thrives on helping other businesses of all sizes experience the potential of SMS marketing. With Experttexting, you can send thousands of messages in a matter of minutes. Get Started now, and if you need any assistance, we have a 24/7 live chat support team at your service.