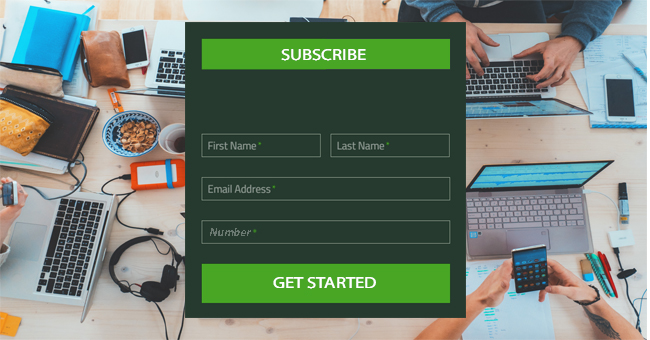 How to set up a signup widget for your website
A Signup widget is a tool you can embed on your website that will allow users to easily subscribe or opt-in to your group on Experttexting and receive messages from you. Before jumping in, it is important to understand how the signup widget works. A signup widget is simply a piece of code that you add to your site, which renders a basic form for a user to enter in their information such as name, number and email address. The form will simply be connected to your Experttexting account. So, whenever a user enters their number, it is not stored in the database of the website, but as a contact in your campaign group.
So, your audience looking for more information can simply subscribe to your campaign using the signup widget and you can send them your latest promotions, notifications and updates accordingly.
The need for a signup widget to collect contact information
Despite being an old technology in internet terms, SMS marketing is now one of the most powerful marketing techniques with conversion rates way beyond many other channels including emails. SMS marketers will tell you than an engaged contact list is the most valuable data any business owner can have. This is because texting is personal and text messages go directly to the top of the user's inbox as soon as you send them. Compare that to emails which are often ignored or end up in spam, important information may be delayed or missed entirely. By subscribing using the signup widget, a user is providing their consent to receive information from you.
These factors present the perfect back for a smart and long-term marketing channel that has a strong impact on traffic and revenue if the proper strategy is applied.
How to setup signup widget on your Experttexting account
The following are the steps to set up a signup widget on your account;
From your Experttexting Dashboard, please click on the 'Tools' tab under which you will find 'Signup Widget'.
Click on 'Create New Widget' and get started.
Enter in the basic widget information, customize your widget design, confirmation text and your terms & conditions URL. You can also customize some more under Advanced Settings.
Preview what your signup widget looks like and then save it to generate the code.
You can then copy the code and set it up on your website.
What makes Experttexting's signup widget different
There are lots of widgets and forms on the market for this purpose. However, we at Experttexting believe in a single-stop solution for our customers. The following are some of the reasons why you should try our signup widget to lead more prospects into your campaign groups.
1. Simple
Modern audiences generally have a short attention span so they need to be able to enter their contact information and click subscribe with ease without having to jump through annoying verification purposes. Our signup widget is designed to be the smoothest user experience imaginable. Enter your name, number and email address, and done!
2. Secure
The front end can seem incredibly fast and simple but there a lot of operations happening behind the scenes to ensure that no now is spamming your sit to fill up your contact list with fake numbers. Our widget validates all entries to ensure that they are formatted properly to ensure you only have authentic subscribers.
3. Fast
All of this happens on our servers, so you will find consistent performance on your site. The signup widget will make a single request to our API and we take care of the rest. The end result is that users receive a response message almost instantly whether their signup attempt went through or failed.
4. Quick Setup
Not only is our signup widget fast but its also extremely simple to set up and configure on your website. As the widget is JS, CSS and HTML, you just have to drop it at the top of your architecture and nothing needs to be done on the server or database level.
To sum up, Experttexting thrives on bringing its customers everything texting has to offer. With our signup widget, you can capture more active users on your website and engage with them in your next marketing campaign. This is what we call a win-win situation and we love watching our customers grow in success. Plus, if you need any assistance with the signup widget, we're here at your service 24/7 so feel free to engage with us any time.