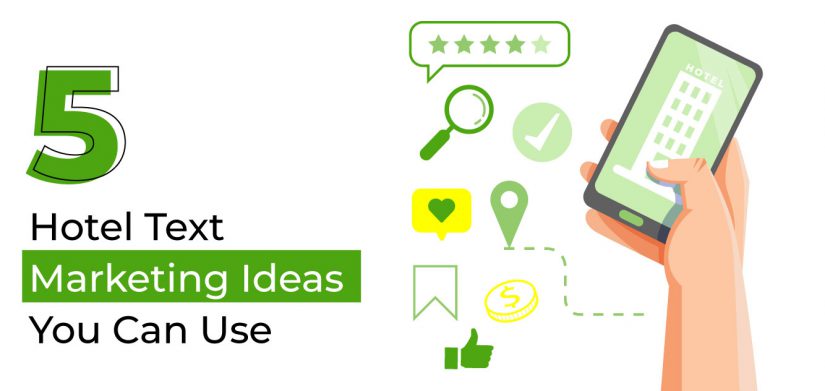 5 Hotel Text Marketing Ideas You Can Use
Hotels are a grand industry. If you are an owner, chances are that your competition is vast. Hence, investing in the right marketing strategies is important. This especially applies during the seasonal approaches. If you do not know about text message marketing and mass texting, then you should get on board. At ExpertTexting we have seen how hotels have turned their game around with the right approach. Here are a couple of hotel text marketing ideas that have worked for our customers. Similarly, they may work for you too!
How to use text marketing for hotels?
Text marketing for hotels is one of the best ways you can get the word out. Moreover, you can reach out to the audience that you know is highly interested. Additionally, you can use mass texting to manage the regular work of your hotels as well. Here are a couple of hotel text marketing ideas and mass texting ideas for hotels.
For restaurants

Hotels have restaurants and bars. A lot of business comes from those restaurants and bars. Hence, using a service like ExpertTexting allows you to market these restaurants.

For your regulars and customers, you can send out updates. For example, if you pay a tribute to a specific culture, send a blast. Invite people to come in and celebrate the culture with you.



Moreover, you can use ExpertTexting to make reservations and track them. The two-way messaging feature allows customers to text back their reservation details and do so much more. To follow up, you can send reminders as well.

Customers can also get the option of sending a simple text message to cancel their reservation. This can help you transfer the table to someone interested in the first place.

Guest updates

Your guests expect luxury and comfort when they check-in to your hotel. The idea is to bother them as little as you can. Here is where text messages come in to save the day. Keep the QR code printed on your desk. Encourage check-ins to opt-in so that they can receive updates on breakfast timings, or other important updates while they are staying in.

Moreover, you can give them the option to text back to request wake-up calls. Additionally, a simple text can help them schedule a car service.

The communication method is more efficient and your guests will not have to make calls constantly. Moreover, the hotel staff will save valuable time.

Bookings

Want a room on a particular date? Text messaging is a fingertip away – literally. Instead of calling and making a long conversation, encourage your customers to send a text for booking. They can simply send their requirements and you can make a booking in their name.


Additionally, you can remind them about their upcoming check-in and check-out dates. A day or so before they have to check-in, remind them if they have to bring something along.

During this time, you can also promote the benefits that they will get while they stay at your hotel.

Referrals

In the hotel industry, word of mouth is a very important part of marketing. You cannot force people to say nice things about your business. However, you can give them referral points. Encourage your customers to refer your hotel to their friends. In return give them a nice discount or benefit the next time they stay at your hotel.

Promotions

Promotions through texting are one of the easiest things you can do. The best part about texting is that you can make the promotions time-sensitive. For example, you can send out a message saying that between this time slot, rooms have slashed prices. Or if they book now, they can get free limousine service. The possibilities are endless. It's how you chose to use them!

In house communication

The hotel staff is quite vast. It requires an efficient way of constant communication. Mass texting helps send out shift schedules, and job duties, and more. You can keep your staff updated to ensure that they can work efficiently.
Get started with ExpertTexting
ExpertTexting is one of the most affordable mass texting service providers. You can send out messages to your opt-ins in a jiffy. Moreover, you can forward the replies to your phone as well. We do not believe in payment plans. Our pricing is prepaid so that you only pay for the messages you send out. Moreover, our credits seldom expire. As long as you keep your account activated, you can keep your credits.