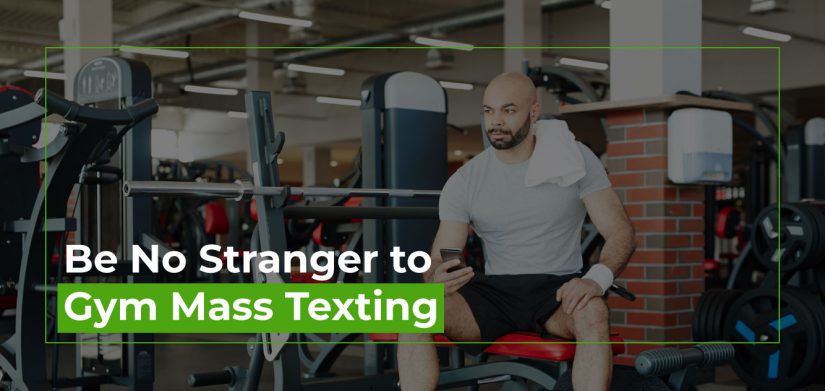 Be No Stranger to Gym Mass Texting
According to IHRSA, in the last ten years, the $30 billion health and fitness industry in the U.S has been growing 3-4% annually. It is not coming slowly anytime soon. A lot of people are into fitness. Now is a great time to learn about gym mass texting.
Let's talk Stats
According to research, SMS open rates are as high as 95%. Most text messages are read in 90 seconds. Meanwhile, it takes 90 minutes for someone to read and respond to an email. As far as marketing is concerned, about 75% of the audience is happy to receive texts that they opt-in.
"A real marketer is someone who can identify the right medium for marketing." – Neil Patel
Why use mass texting for gyms?
Mass texting is a powerful communication service for marketing. You can send out your messages with almost instant delivery. You can use gym mass texting for several reasons.
Let us look at some of them.
Encouragement

With the help of text messaging, you can encourage people to stay healthy and fit. Whip up some enthusiasm in people to stay in shape. Text marketing has the potential to engage and attract more customers. However, encouraging people to come to the gym is not an easy task. It needs great marketing skills to encourage people to come to the gym from your captivating messages.

With the right words, you can retain your customers. You can also use your keyword to build your audience. Print it out and offer an incentive against signing up. Once they are opt-in you can bring them in to become a member.



Updates of classes

Mass texting offers you to send mass messages to your client list in just one go. The health and fitness industries can use this to update their members. You can send class confirmations or cancellation updates. Your updates help customers stay on track and plan accordingly. Text message saves people from making extra trips to the gym.




Promotional messages

Everyone craves better deals and discounts. Keep your members in the loop and offer them new packages. These also help in retaining customers when their membership is about to expire. Moreover, you can update about what's new in the gym and how it can help them.



Renewal of membership reminders

Another reason to use gym mass texting is for the renewal of memberships and other admin reminders. You can send texts to members before their membership ends. It is more appropriate to send a text to members who are more likely to move to another gym. You can use the power of texts to retain your customers.
Final thoughts
Gym mass texting helps engage and retain more members. Text marketing platforms like Expert texting offers unique features for almost every industry. The health and fitness industries are growing swiftly. Text marketing is now one of the effective, low-cost, reliable marketing channels.