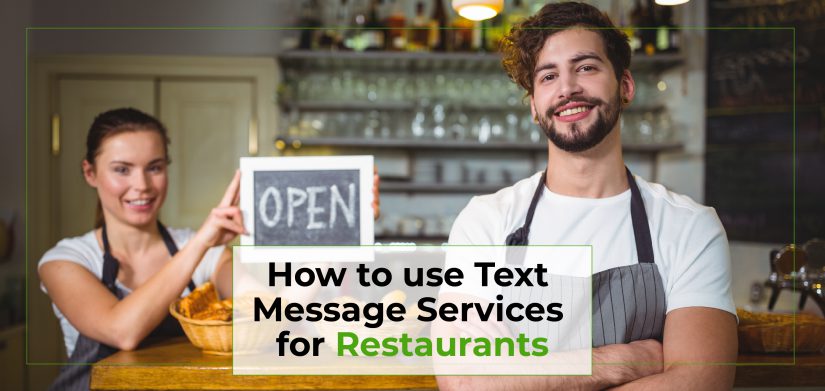 How to Use Text Message Services for Restaurants
Restaurants usually do not have much chance to build a relationship with customers. People prefer coming in, dining, then leaving! This process stops the owners from having a chance at building relationships with their customers. Moreover, there is a thin chance of retaining customers as well. Restaurants found a glitch in the system in the time of Covid-19. Businesses were down and there was little to no way to bring in business. Using text message services for restaurants seemed to work for people who were in the right direction.
How text message services for restaurants works
Being in the industry, we found out how restaurants helped their business through text marketing. Let us discuss a few ideas on text message services for restaurants that are usable and efficient.
But first…
Before you jump on to use text message services for restaurants, remember the ethical way. You need to have consent from your contact list to receive messages. There are several ways to achieve this consent.
Print flyers

Use good ol' advertising techniques to build your audience. Print flyers or advertisements with your unique keyword. Add an incentive of signing up to the text messaging service. For example, you can offer a discount on their next meal, or similar. You can also simply print the QR code to get your audience to sign up.

You can also add a roll-up standee on the entrance with the instructions. If you want to go above and beyond, add a widget to the website. The widget helps make an audience list for people who scroll through your website.

Embed it in the bill

The walk-ins are your friend when it comes to marketing. They are already your customer and will make for a great audience. Add the QR code on the check at the end of the meal. This method will bring in more opt-ins easily.

Social media

Social media is your best friend to build your audience. Create an image with the set of instructions to sign up. Interested candidates will opt-in. You can also offer a bonus of signing up.
What's next?
Now that you have your opt-in audience, you have the power to convert them to a legit business. Here are a few ideas on how to achieve this.
Update about your menu



As a restaurant, it is important to update your menu. However, it will not matter if people do not know about it. Send updates about your menu to your subscribers. You can send them updates about chef's specials, the meal of the week, any additions, or even subtractions.

Promotions

Offering promotions and discounts on your menu is a great idea to bring in customers. However, if no one knows about it, how will you enjoy the perks? Don't forget to send promotion details to your contact list. Keep them updated so they can give you business.

Reservations
Everyone hates waiting in restaurants. Use a two-way text service to allow people to make reservations. A fully automatic system saves you and the customers' time. You can also follow up on the reservation day to ensure presence. If the person cancels, you can always give that table to someone else.

Delivery/Take Out

If your restaurant has a delivery or take-out system, then text message services will work wonders. Simply give your customer the option of ordering through texts. Give them the option of calling for taking out orders too.



Customers love efficiency and speed. They won't have to take time to call. They'll have their food with the click of a button. Isn't that the dream?
Conclusion
Text message services of restaurants help make it easy for you to retain your customers. You can use ExpertTexting for your texting needs. It is one of the most affordable text message services of restaurants.