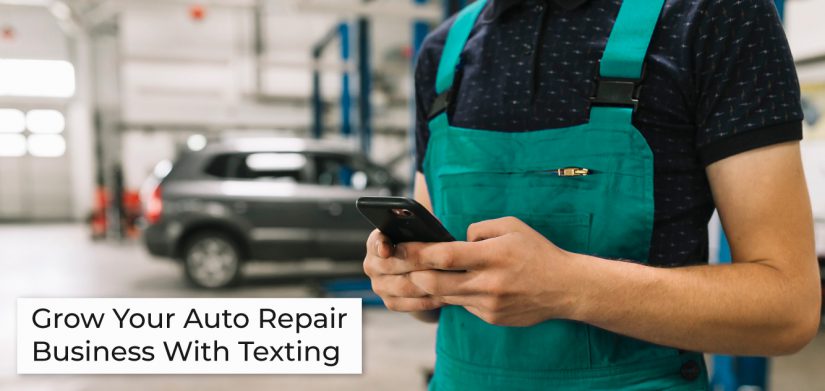 Grow Your Auto Repair Business with Texting
If you have an auto repair business, then it's time to amp it up with mass texting. Texting is one of the most effective and efficient communications methods out there. Perhaps this is the reason for including it in masses and marketing. It has a high open rate and effective communication can transform businesses.
Mass texting is not very difficult. It is simple and cost-effective. Moreover, you can manage more than promotions with mass texting. You can simply use it to enhance communication, or even use it for two-factor authentication.
If you have an auto repair business, then this guide is for you. We will talk about different ways and aspects of growing your auto repair business with a simple tool – texting!
Send promotions
The first and most basic thing to do is to send promotions. Are you running a campaign or car washes with maintenance? Advertise it with text marketing. No matter what kind of promotion you run, you can market it to your audience directly.
You see, text marketing is about permission. You need prior express consent to text the potential customers. This makes them very strong leads. Of course, why would someone with zero interest in your business want to give their number for receiving marketing messages? Hence, you get important leads that are easier to convert with promotional messages.
When you use a service like ExpertTexting, you can take note of other features too. For example, you can send MMS to add a flair to your simple text messages. these help in higher conversions. You can also add special discount codes for each customer and still send mass texts. Here is how:
Simply set custom variables for a discount code! When you send mass texts, the custom variable will send out as you set it up. Watch the video below to know more about how you can send custom variables with ExpertTexting.
Servicing reminders
While most people know that their car needs servicing now and then, they don't exactly know how often they should get it done. To keep a healthy vehicle, servicing is important. You can use this to your benefit.
Sending simple servicing reminders can allow your customers to build their trust and reliability in you. Instead of using phone calls, which people forget, you can use text messaging. Texts are kept in the inbox unless manually deleted. They will serve as a reminder for a long time.
With the ExpertTexting link shortener tool, you can also add your appointment link in the text message. Moreover, you can track the click-through rate of that link.
You can also use ExpertTexting to schedule messages of when they should go out. This way, even you will not have to remember when to send messages to your customers.
Appointment notifications
One of the biggest losses that businesses go through is because of canceled or missed appointments. What is worst is that if people just inform beforehand, businesses can save themselves from this loss. However, businesses should give this option to customers. Simply send appointment notifications and remind people of their vehicle appointment.
To make it even better, you can add a link to reschedule. ExpertTexting allows you to enable two-way communication as well. With this, customers can simply respond to your message if they want to cancel or reschedule.
Request reviews
One of the ways to grow your auto repair business is through word of mouth. This is a very strong way to build trust and reliability with customers. Researches suggest that most people will be interested in a business if they have online reviews.
To increase user-generated content, you can ask your existing customers for reviews through mass texting. Moreover, you can offer a small incentive if you want them to review on your website or even on Google. This will allow your potential customers to bring them to your business and increase your sales.
If you want reviews just to evaluate yourself, you can ask for reviews over text messages. The customer can simply reply with their review and even add a comment. This helps your business to improve in areas that the customers may think are problematic.
Request for referrals
Similar to reviews, referrals work great as well. If you make an offer against referrals, you may see a bigger number of people referring your business to their friends and family. Send a message to your clients and tell them with a referral, they get an incentive. Make sure to make the incentive something exciting to catch their attention.
Offer advice
If you do not have any promotions running, it is important to send your customers messages every once in a while. Even if you have running promotions, don't make it all about that. Sometimes, it is better to just give some value for money to your customers. Sending car advice tips can make your business stand out. Moreover, you will be helping your customers out too.
You can also add links to your landing page to make these tips more accessible. Just make sure to make your webpage mobile optimized before you send a link to it.
Grow your auto repair business with ExpertTexting
Text marketing is one of the most powerful tools you can use to grow your business. To make the journey even smoother, partner with ExpertTexting. ExpertTexting allows you to send MMS, schedule messages, set templates, and do much more. All at a pay-as-you-go service so you never waste credits.