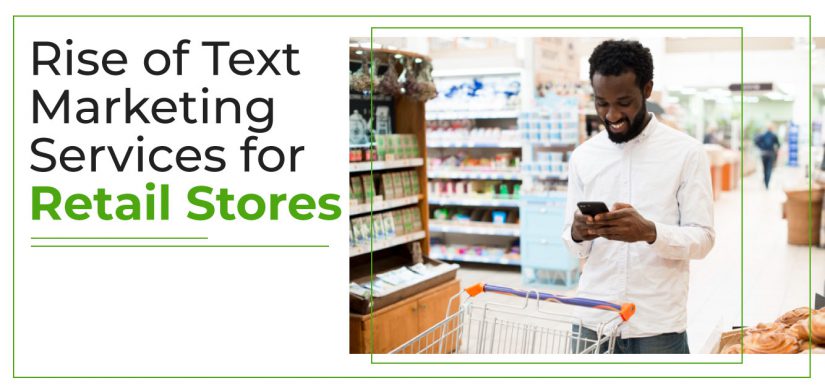 Rise of Text Message Services for Retail Stores
Retail stores are the basic requirement for every person. However, they are more of a walk-in, buy, and go. There is not much space to retain customers for the owners. Text message services for retail stores help bridge the gap.
Let us see, how!
Statistics
According to the experts, the average text message opening rate is as high as 98% compared to a 20% open rate of emails. Moreover, it is predicted that 48.7 million people will opt-in to receive a business text in 2021. 79% of cell phone and smartphone users read text messages within 3 minutes. It shows that text marketing is not coming slow any time soon.
Why use text message services for retail stores?
Text messaging is an effective marketing channel. It is popular for being a low cost, high impact, and instant marketing channel. Moreover, it engages the customer's attention. While there are other mediums, they tend to be cumbersome. With a high open-rate, text marketing takes the lead.
Here's how you can use it too:
Loyalty programs

Loyalty programs are for customer retention. These programs are set up for customers to make frequent purchases. Set up loyalty programs for people who opt-in. Once they are on your contact list, you can charm them into being your regular.

Product updates

One of the best ways to use mass texting is for product updates. Retailers can send updates to their customers. For example; if there's a shortage of a product, you can text them when the product is available. This service is often used for online orders. Moreover, you can also use this to save extra trips to the store.

Customer service programs

The customer services program has its significance in retail. To improve customer service, you can send an invoice text with a "Thank you". It gives a personal touch to the customer. Also, it shows how valuable your customer is to you.

Moreover, you can use a two way SMS system to allow customers to make a query.

Delivery options

In the Covid-19 world, it may be risqué to go out for shopping. People are scared, and you can help them out. Offer delivery option through text marketing. You can add hyperlinks to products and customers can order them. Moreover, you can update the delivery status with mass texting.


Feedback

Feedbacks are the most important part of any business. This helps improve services. Customers' feedback gives a motive to the business to improve its services. Text message services help them to take feedbacks from the customer about the products. Use SMS polls to receive feedback with a click of a button.


Wrap up
Text message services for retail stores amp up the business. When you think of current times, it is best for keeping your clientele up-to-date. One of the best services is ExpertTexting. ExpertTexting offers reliable mass texting at the most affordable rates. It supports automation, so you can focus on other things.