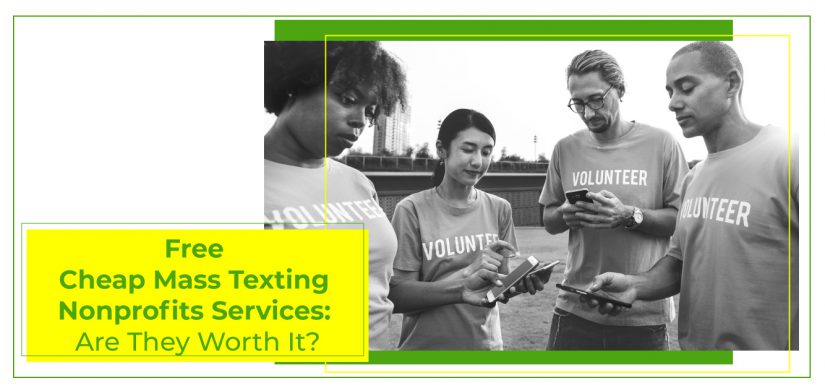 Free Cheap Mass Texting Nonprofits Services: Are They Worth It?
One of the best things that text marketing brought was the ability for nonprofits to communicate more efficiently. Nonprofit organizations are organizations usually run-on donations for the service of a cause or society in general. Hence, having free cheap mass texting nonprofits can use is probably the most ideal way for them to communicate.
Before we dive in, let us discuss mass texting is imperative when it comes to nonprofits. Here is what you can find in is blog
Sending messages to donors
One of the most important parts of your nonprofit organization is the donors. The donors help you run your organization so that you can keep doing good for society. Hence, you have to always make sure they are appreciated and well-informed.
In the olden days, snail mail was the best way to go about it. Donors would receive postcards and such to know that they were appreciated. However, it is called snail mail for a reason. Keeping in mind every cent that matters when you run a nonprofit, you also will have to spend money on sending out mail.
What if we told you that you can send out mass texts for LESS THAN one cent each?
ExpertTexting is one of the most affordable ways to send out mass texts. Since we have a pay-as-you-go pricing service, you only pay for the texts that you send out. Moreover, you can manage contact groups as well. So, when you want to send a message to your donors, simply send it to the particular group only.
Your duty to your donors does not end here. You also have to make sure that you let them know where their money is going. Hence, you can send them updates about what you are up to. Moreover, you can send them your newsletter over texts as well.
Manage your events
Another important and crucial part of a nonprofit organization is the events. These events come in several types. A study showed that 78% of these events are educational and community-building events. The remaining 32% are actual fundraising galas. However, the proceeds from all the events usually go towards the cause. Hosting events is the best way to raise awareness and funds for your cause.
Mass texting allows you to send invites to your list for event promotions and details. Moreover, people who choose to attend can simply be a part of your list and get reminders and updates on their phones.
Since events require manual labor and communication amongst the volunteers or workers, you can manage that too. Simply make a group of all the volunteers of the particular event and begin texting them. Remind them of their duties and other important tasks for them to do.
This becomes particularly easy when you use ExpertTexting for your mass texting needs. You can create several groups to send out your campaigns too. Moreover, you can add custom fields that allow you to send mass texts but in a personalized fashion. This feature helps you customize things like duties for volunteers. Watch to know how you can send personalized texts with ExpertTexting.
Text to donate services
While directly asking for donations via mass texting is not allowed, there are still several ways how you can manage text to donate with mass texting.
When using mass texting for donations, you need to make sure that this channel is used to provide support to the cause. This means that instead of messaging something like 'we need donations', you message an awareness factor. For example, 'find out what you can do to save children from hunger.' This message along with a web link to a blog creates the support that you need. You can then use your page to request donations.
If you have an online donation system, then you need a service provider that can instantly send out transactional messages. For example, if someone donates, you need to at least tell them instantly that their donation has been received. For this, use the ExpertTexting API. Simply integrate it into your donation system. As soon as a donation is made, you can send an appreciating text. While you are it, invite them to join your messaging list.
You can do this by adding a simple widget to your website. ExpertTexting allows you to make your signup widget easily and place it on your website. Watch the video to know how you can add your widget with ExpertTexting.
Keep up with the board of directors
The board of directors of any nonprofit is like the government of the organization. Management is different, this is much bigger! These directors make necessary decisions, they may have a treasurer to ensure that the money is safe and is spent legally. The board usually does not manage or work, they are more for an oversight.
Hence, every they need to stay in the loop. The best way to manage this is to use mass communication. Make a list of the directors and send them a quick text blast to keep them in the loop. Do not rely on emails that get buried in spam for something as important as this. Instead, use mass texting to send them quick updates.
Moreover, you can also manage meetings by inviting them for a sit-down.
Staff communication
Just like you can manage your conversation with your board, you can do it with your staff too. Not only nonprofits, enterprises, and businesses also use mass texting to manage internal communication. These allow quick communication amongst staff members.
Use ExpertTexting to get an agency account. Here you can add several sub-admins to manage inter-departmental communication between your staff.
Communication
If you are expecting people to join your cause, then it is only fair to cater to their questions. Mass texting with ExpertTexting allows you to hold one-on-one conversations as well.
You can simply allow them to send you their queries over texts and you can respond to them. This allows them to have transparency about your cause and you may find new donors against this.
Free cheap mass texting nonprofits can use
Now that you know how important mass texting can prove to be for your organization, it is time to answer the main question. What are the free cheap mass texting nonprofits can use? Well, many different mass texting service providers may run free. However, they come with several limitations. Moreover, since they are not bound by money, they may not be very reliable. With so much responsibility on your hands, do you really want to take this risk?
Instead, you can use something that is perhaps the most affordable in the market. Check out ExpertTexting's pricing! We charge you by the message instead of charging you for annual and monthly plans. The problem with these plans is that you get limited messages and keywords. If you run out of messages or if do not use them, your money goes to waste. Hence, we prefer charging you less than ONE CENT for each message you send out.
Topped with copious other features, ExpertTexting becomes your one-stop solution to mass texting for nonprofits.