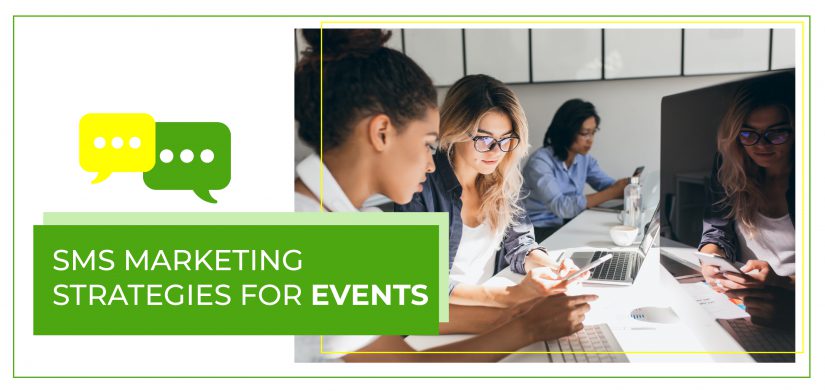 SMS Marketing Strategies for Events
One of the best ways to use text message marketing is to manage your event management business. To ensure that there is as little chaos as possible, text marketing allows you to control many aspects of messages easily. ExpertTexting has firsthand seen event managers find a systematic approach to their job with mass texting. Here are the top SMS marketing strategies for events that will change the game for you.
Using Texting for Event Management
Using texting for event management is not very complicated. With a service like ExpertTexting, you have it even easier. Check out a few SMS marketing strategies for events
Organize staff

One of the most challenging tasks in event management is the management of the staff. There is already so much to do. Adding the communication methods to keep the staff in the loop makes it even difficult. Mass texting helps you out in this regard. Since everyone has a phone, you can send a text blast and tell them of their duties.

With ExpertTexting, you can personalize messages and send them as mass texts. Moreover, you can schedule these messages easily.

The best way to use it is to craft messages with schedules and shifts and simply schedule them for when you want your staff to know. If there is confusion, your staff can text you back as well. Two-way communication allows you to receive messages as well. You can also send messages to your staff in the middle of the event to make sure things run smoothly.

Communicate with attendees

It is next to impossible to communicate with all attendees in a systematic and organized way. Mass texting allows easy communication with the attendees as well. Simply send your QR code with the invitation to the event. Once they are opt-in, you can begin sending them updates and reminders about the event.

Craft before the event messages, during the event messages, and after the event messages. in the after-event message, you can ask for feedback for your betterment too.

Promotion of the event

If you are having a public event, then promotions are important. The best way to reach out to people to promote your event is through text marketing. Send mass texts to your list and inform them about the event.

Moreover, you can also send reminders building up to the event. By enabling two-way messaging, your guest list can respond if they are a no-show. Hence, your management can make necessary arrangements.

Reservation confirmations

If your event has limited seating, then using mass texting is the perfect way to manage this. You can send invites and ask the guests to respond to the messages. moreover, if there are any last-minute cancellations, you can simply send a message and let someone else avail of the seat.

Moreover, ExpertTexting allows you to send transactional messages as well. Simply integrate the API and you can send confirmation messages against payments as well.

Send evites

Gone are the days when you send cards to invite people. Emails are still an option, but with an open rate of only about 18%, do you want to risk it? ExpertTexting allows you to send evites as text messages to your list.

Simply create your guest list and send them out and wait for the reply. It is easy to manage and more efficient.
Get started with ExpertTexting
Event management can be quite tricky. Use ExpertTexting today to make it easier to manage as much as possible on texts. When you have communication under control, you can focus on other things easily. ExpertTexting gives you prepaid pricing so that you do not have to buy packages and waste the unused credits.