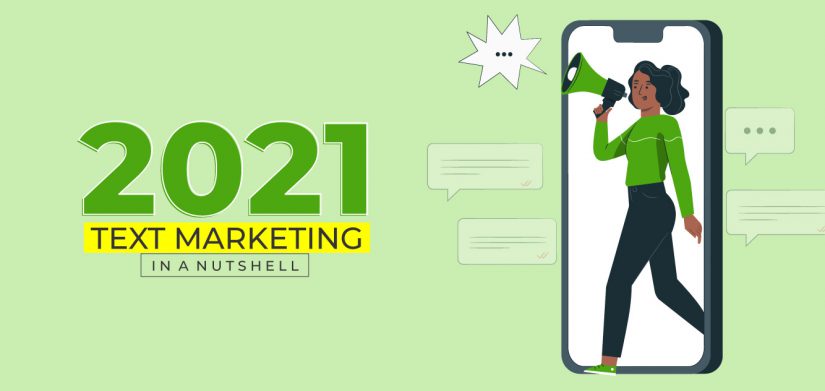 2021 Text Marketing in a Nutshell
As we glide towards the end of 2021, it is time to look back to how text marketing performed in 2021. Perhaps 2021 saw the biggest influence with text marketing. After all, 2021 text marketing was a result of businesses shutting down and having trouble surviving in 2020.
2020 – the global pandemic – helped businesses realize how important it was to retain clients rather than bring new ones. Text marketing is one of the best ways to retain clients. Hence, 2021 text marketing was mainly to help retain clients and make it worthwhile for the business.
While television advertisements and billboards became more expensive, text marketing stayed true to the pricing as well. Specifically, ExpertTexting! ExpertTexting remained one of the lowest costing mass texting services that offered MMS as well as text messages.
Let us look at what 2021 text marketing brought about and what changed.
The introduction of dedicated textable numbers (10DLC)
One of the biggest changes in 2021 text marketing was the introduction of 10DLC. This was a much-awaited change from shared shortcodes that finally came.
The load on shared shortcodes had finally increased. Moreover, it was easier to spam from these numbers and difficult to track them. Hence, a solution by the network operators was derived. The 10 digits textable number is the solution to the problem.
Unlike long codes, these 10-digit numbers are specially for application to person texting. The volume is decided against the brand and use case of the number. 'The campaign registry' is the central organization to monitor the number and the messages sent out from it.
ExpertTexting became the first of many other service providers to activate 10DLC for usage. Moreover, as always, we offer the most economical price a pay-as-you-go pricing.
Increased eCommerce
One of the fields that manage to affect text messages, directly and indirectly, is the eCommerce field. Since about 70% of web traffic is from smartphones, it becomes important to bring text marketing with eCommerce links in the picture.
As the prediction went, this is exactly what happened! The growth of e-commerce hit almost 19.5% more in 2021. The global eCommerce market reached almost $4.89 trillion.
Perhaps 2020 had shown the world the benefits and beauty of eCommerce. Even the businesses that did not have eCommerce, started it and enjoyed the perks of online stores. Hence, in 2021, people continued with the experience of online shopping. Moreover, the web traffic went from 70% to 92.6% from mobile devices.
Hence, using text marketing was a great idea. Moreover, with ExpertTexting's link shortening tool and the ability to track the CTR of these links, it becomes easier for eCommerce. The simple promotions of eCommerce on texting enhances shopping.
Bigger personalization
Since there was an increased text marketing network, personalization became important. Personalizing direct marketing helps make it more real and approachable. With so many mass texts being sent out and people opting in, everyone started sounding the same.
However, businesses that used mass personalization took it a step ahead and succeeded most. ExpertTexting was with the businesses that chose to send personalized text messages. With our custom variable tool, businesses were able to sound more human than robotic.
Seeing as the market is growing, we think that the trend will continue. Watch the video to know how you can send custom mass texts with ExpertTexting.
Rise is MMS marketing
According to a study of consumer behaviors and patterns in 2021, MMS marketing is favorable. The study asked the preference of consumers when it came to text marketing. 51.1% wanted text messages with media from their business.
Hence, it is safe to say that MMS marketing slightly rose. We predict that a bigger picture will be taken in 2022. Perhaps the reason is that MMS marketing can be slightly on the expensive side.
However, in 2021 ExpertTexting broke the glass ceiling to this as well. We introduced mass MMS at the lowest pay-as-you-go rates anyone else can offer.
Increase in text marketing overall
It is safe to say that in-text marketing did take a hike overall. This is again because of consumer behavior. There was a time when consumers were okay with hearing from brands only once a week, but now they want.
A survey revealed that 39.2% of consumers would love to hear from their favorite businesses 2-3 times a week. 42% said that they would prefer to hear from businesses 4-5 a month. 18.8% even said that once a day would be pleasing for them too.
Hence, text marketing frequency is generally raised. However, it was with the permission of opt-ins so that customers are not bothered. Choosing to raise your frequency depends on your brand and your customers. Make sure to know your customers before you set the frequency to not disturb them.
Wrapping up 2021
As we end 2021 – text marketing proves as one of the most versatile and effective ways of marketing. Using a text service like ExpertTexting helps you schedule mass messages, personalize them, send MMS, and more. All at a pay-as-you-go service to ensure that you do not waste money ever.