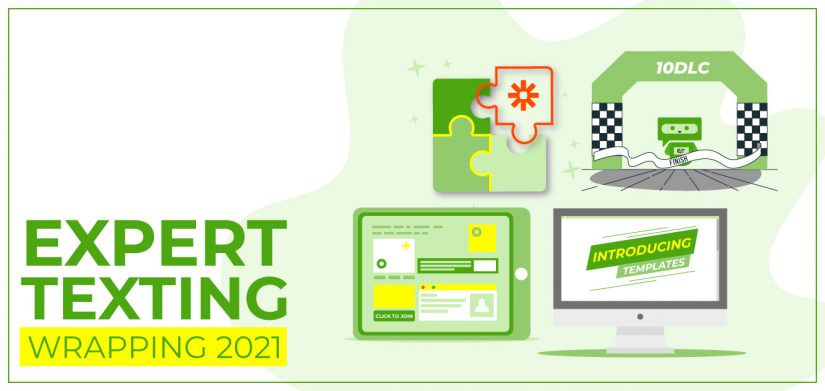 ExpertTexting – Wrapping 2021
ExpertTexting has been around for quite some time. We have a strong and incredible base of customers which helps us keep going and encourages us to do better in every way possible.
Similar to the entire world, 2020 was a difficult time for us. However, we survived and entered 2021 with newfound enthusiasm. You see, 2020 did not bring us down, it just lifted us through the hard work and endless efforts of the entire team.
In 2021, we set out for a few goals to make ExpertTexting bigger and better! We are so proud to announce that we have achieved almost all our goals.
As we wrap up this year, we promise to become only better in exchange for your unconditional reliability and support towards us.
Read some of our 2021 highlights below.
Mass MMS text marketing
ExpertTexting finally came on the bandwagon to send Mass MMS. In 2021 ExpertTexting introduced its mass MMS feature. For all those businesses that wanted an oomph in their marketing, MMS played a key role.
We made sure to keep personalization open when sending MMS. Even though we faced quite some challenges, another thing to look out for was the cost per MMS. ExpertTexting aims to charge you the lowest possible amount.
Thankfully, with MMS we were able to keep that promise and introduce pay-as-you-go pricing for MMS at perhaps the lowest cost you will find.
Conversational inbox
ExpertTexting has always been able to offer you two-way communication and one-on-one communication. With our inbox, it becomes easier for customers and businesses to have single-handed communications and keep responses recorded.
However, 2021 was the year when we decided to make it even more efficient. ExpertTexting introduced its conversational style inbox. In this inbox, you have all the conversations with one person in one place. You can send them messages, MMS, and even export your conversations to save in your system.
The conversational style inbox helped organize contacts more efficiently and helped several businesses.
Message templates
We understand that it is difficult to write, and then rewrite the same message over and over again! ExpertTexting has a reliable recurring message feature to schedule recurring messages.
However, sometimes the case may not be the same! To tackle this hindrance, we created the message templates. Now you can save your templates as you like with ExpertTexting. The great thing about these templates is that you can use them anytime for any contact group. Moreover, you can make changes to the template before you hit send. Thus, allowing you to save a lot of time in drafting messages over and over again.
Click to join button
To help our customers with their opt-ins, we have a couple of list-building tools. However, 2021 was the year when we added another tool. This is the click to join button.
The button is made against a keyword and when tapped from mobile web, redirects the user to messages with a default message and number. The user simply presses send and they join the list. Click to join helps reduce human errors and helps in converting mobile web traffic into opt-ins.
The button is easy to make. All you have to do is to place it on your website and you are good to go.
Introduction of 10DLC (dedicated textable number)
The introduction of 10DLC was long due by network operators. In 2021, the change finally happened. 10DLC was introduced by network operators.
ExpertTexting was the first to activate these numbers for its users. As always, we stayed ahead of the game and news and kept you with the latest updates. ExpertTexting further made migration easy by helping through the entire process.
As a result, we became a part of 'The Campaign Registry' to officially provide dedicated textable numbers.
ExpertTexting Zapier Integration
ExpertTexting is extremely excited and happy to announce its integration with Zapier. This was long due and finally, we did it in 2021.
ExpertTexting and Zapier together allow connection of any app with ExpertTexting for text message notifications and sending against a trigger.
ExpertTexting WordPress plugin
Another feather in our cap was the WordPress plugin. With the new ExpertTexting WordPress plugin, users can now integrate texting for their notifications, newsletters, and more.
Saying Farewell to 2021
2021 was a successful year for ExpertTexting. We loved serving you and strived to do better with each passing time. Our team has worked tirelessly to ensure that you can rely on us.
Here's hoping for a bigger and brighter future for us and you! Happy New Year 2022