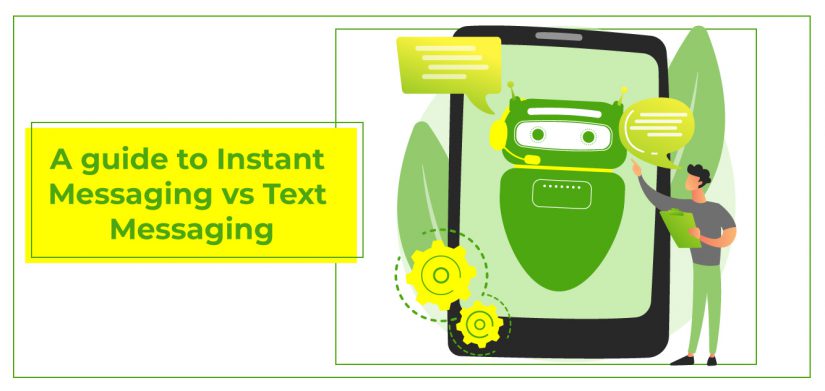 A guide to Instant Messaging vs Text Messaging
According to The Verge, about 60 billion messages are sent out every day. These include instant messages and text messages together. Hence, it is safe to say that short messages are perhaps the easiest form of communication. Since both services are about short messages, they tend to work well with customers. However, instant messaging vs text messaging is different. Even though they sound the same, there is a vast difference between them.
In this guide, we will discuss in detail instant messaging vs text messaging. Let us cover the following in this blog.
What is texting?
Text messaging is the process of sending short messages electronically through your phone. You can send them to multiple people at once. However, they require a network carrier to send messages. The carrier determines the charges and the rate of delivery of these messages.
There are multiple types of text messages. These include simple character messages and even multimedia messages. Character messages have a limit of 160 characters for one message. However, if there are more than 160, the message can thread into one. They count as two messages and networks charge accordingly. The recipient's phone determines how the messages appear. Most modern phones have a message threading or concatenation ability.
Multimedia messages or MMS allow pictures and other forms of multimedia. Different networks have different charges for MMS.
While everyone can receive text messages, MMS may have limitations. Only the phones that have MMS enabled receive them and can send them. In rare cases, you may have to contact your carrier to enable MMS services.
What is instant messaging?
Instant messaging is the process of sending real-time messages. They are called real-time because they send and deliver messages instantly. Instant messaging is through software applications that work on some kind of internet. You can use Wi-Fi or a mobile network connection.
The most popular instant messenger is WhatsApp followed by Facebook Messenger. There are multiple messengers out there and all offer something or the other. Most of them allow sending videos and images. They also support voice calls and video calls. Moreover, most of these are free.
What are the key differences?
While texting and instant messaging feel the same, there are several distinctions between them. Let us talk about a few of them.
Devices

One of the major differences is the devices used to send messages. You can use instant messengers on almost any kind of device. These include laptops, tablets, and phones. No matter what device you use, for instant messaging, you need an active internet connection. For text messaging, all you need is a phone with active cellular service. If you have the signals you can send the message. If you want to send mass texts, then you can use a service like ExpertTexting. This service helps you send mass texts from your computer to a group of people.


Sending limitations

Another vast difference is the sending limitations. Instant messages need an application to send messages. However, only people using that application will receive it. Nevertheless, it is more versatile with text messaging. Every phone has the option to receive text messages. No matter what the carrier, the sender, or the receiver use, it reaches the user.


Beyond the region

Since instant messages are through the internet, you can send them anywhere in the world. If the receiver has the same application, it becomes possible. Moreover, most of the applications are free. Hence, you pay only for the internet you are using.

Text messages do not have this limitation per se. You can send international messages but it may cost you a few extra bucks. It depends on the carrier charges.
Which one should you choose?
Choosing between instant messaging and texting is not that difficult.
If you wish to speak to your family and friends in real-time, then instant messaging is a good option. It charges you nothing except for what you pay for the internet or the application software. It is good for international communication as it supports voice calls, video calls, and voice messages too.
Meanwhile, texting works on all and every mobile phone. You just need a cellular service that sends the messages. Text messages have a very high open rate and that can help businesses. Businesses can even go as far as to market themselves on text messages. There are some conditions to this and you can read more about that here.
You can also send mass texts easily. With a service like ExpertTexting, sending mass messages is easy and very reasonable. ExpertTexting now has MMS service too. These messages can make your promotional messages go from basic to big with a simple click of a button.
Begin texting with ExpertTexting
The power of texting goes above and beyond when you use a service like ExpertTexting. ExpertTexting is easy to set up and an affordable way to use text marketing. Almost all kinds of businesses use our service and have seen calculatable changes in their marketing approach.