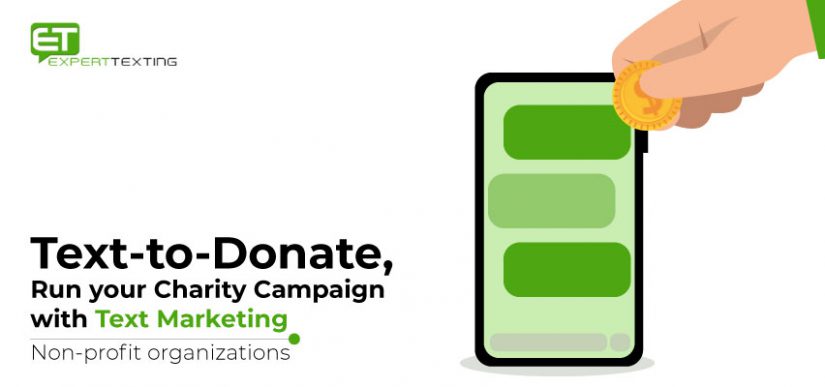 Text-to-Donate, Run your Charity Campaign with Text Marketing | Non-profit organizations.
Text-to-donate charity campaigns have become popular with the rise of smartphones. 90% of the recipients read text messages within a few minutes of being received. For non-profits and other social enterprises, this level of engagement presents a great opportunity to keep donors informed. As a non-profit, you shouldn't pass up this opportunity to capitalize on the power of text marketing. Let us walk you through how you can get more people to donate to your organization's mission using text messaging:
What is Text-to-Donate Fundraising with Text Marketing?
Text-to-donate is a text marketing feature using which charities and non-profit organizations can engage with donors using simple yet effective text messages. What this does is create transparency between your organization and the donor, this leading to more donations. Here are the steps to setting it up with Experttexting;
1. Create Awareness with Text Marketing
Before you run your charity campaign, you need to have an audience of people who care about your cause. This means that your database should be organized and contain contacts who are potential donors. Mass texting is a great way to engage a large audience about the issues at hand.
2. Create specific keywords and promote them
Every Experttexting account comes with unlimited keywords. So, you can create different keywords which relate directly to your cause and are easy to remember as well. You can also create your own subscription list according to different audiences you want to bring on board. After creating your keyword, you need to advertise it anywhere on any media. Put it on newspaper ads, your website and social media pages. Put it on merchandise and announce your subscription at different events.
3. Add Existing Donors
If you have existing donors, make sure they're informed of your future campaigns. Like recurring customers, existing donors are an important part of your cause and may even serve as brand ambassadors in getting more donors. Just ensure that you get their consent prior to receiving messages from you.
4. Offer multiple donation options
As a non-profit, one of your top priorities should be to accommodate for everyone's budgets and comfort zones. So, you should offer different donation options to your target audience. Every organization is different and so are their supporters. What's certain is that potential donors expect different giving options, varying in monetary value. Moreover, in the process of gaining a few high donors, don't miss out a lot of small donors.
5. Say thank you
Finally, thanking your donors is a huge component when it comes to retention. Make sure you send them campaign expressing your gratitude for their support into your cause no matter how much they donated. This way, you can engage with them in the future again for a different cause or a recurring one.