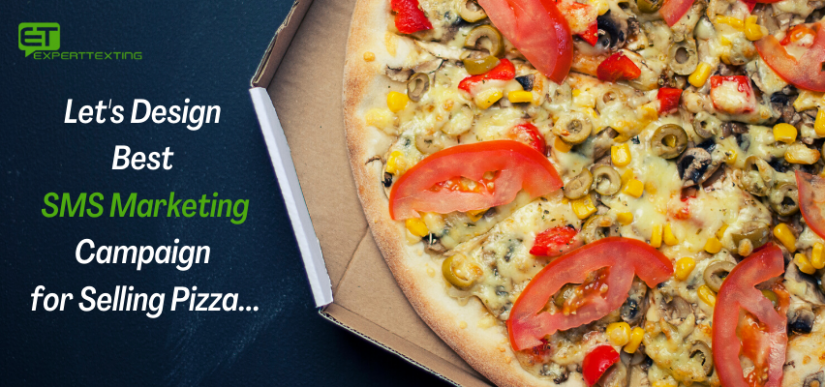 Let's design Best SMS Marketing Campaign for Selling Pizza!
Businesses don't need to spend thousands of dollars to see how effective their marketing is. SMS marketing offers a great return on investment and is incredibly easy to execute. Experttexting serves hundreds of pizza shop and restaurant owners nationwide from street vendors to well-known franchises, for both promotional and transactional messages. If you have a pizza business, you can get started with SMS marketing right away.
Let's start with what most people know:
Everyone loves Pizza and it is the go-to comfort food for Millennials
Consumers love saving money
Text messaging is the most popular communication channel today
When you combine these three facts, they go together like bread, sauce and cheese. You get a smart communication channel to offer your high value deals so you get more business and your customers get their favorite deals.
SMS Marketing Campaign for Pizza Promotions
Pizza shops on our service mostly use the service to send irresistible offers to customers. Customers respond to call to action and if you offer value that appeals to them, they will redeem it without thinking further. Let's take a look at some offers that bring great results;
1. Limited Time Mobile Coupons
The best way to get more orders is to offer coupons from time to time. This entices customers to make quick decisions and avail limited time offers.
2. Daily Value Deals
A smart way to strategize is to study or follow what the competitors are doing. For example, Domino's Pizza promote their BOGOF deal on Tuesdays in different parts of the world. In terms of microeconomics, the increase in demand and supply results to more profit even with the price going down.
3. Lunch Offers with SMS Marketing Campaigns
Lunch hours are usually slow in the pizza industry. Special deals during lunch time can encourage foot traffic to those looking to make the effort and visit their shop during work.
4. Holiday Offers and Reminders
Real-time marketing is one of the leading marketing strategies in the world today. It involves using holidays and events to trigger engagement and drive customers. The food industry thrives on events like Thanksgiving, Christmas, Black Friday, 4th of July, the super bowl, NBA finals and mega movie releases.
5. TEXT to Win
People love to participate in events that leads to a reward. These includes lucky draws, pop quizzes and other games that recipients find engaging. Not everyone wins, but this builds engagement and builds your marketing lists.
SMS Marketing for Notifications and Internal Communication
Texting is a smart way to communicate so why limit it just to marketing? The pizza industry is known for critical supply chain operations which require effective communication. The following are some of the use cases;
1. Order and Delivery Confirmations
Paperless communication is the next big initiative, using which businesses are set to digitalize most of their communications. Pizza shops can manage orders using texts and send out delivery confirmations using text messages in real-time.
2. Staff Communication
Internal communication should be valued as much as external communication. You can use Mass texting to send important information to your staff and employees. Since, they are always available on the mobile phones even during work, why not capitalize on this opportunity and engage them using their own channel of preference?
3. Customer Service
SMS Marketing limits the need for verbal or face-to-face communication thereby saving time and energy. Using text messaging, you can answer customer queries, collect feedback, process orders and also conclude with a sales pitch in the end. High quality customer service can trigger sales the same way your product or service does.
Why SMS Marketing Campaigns Work?
98% of recipients read text messages
70% of Americans prefer text based offers as compared to social media and calls
SMS is the most cost-effective channel to choose from
The average person is attached to their cellphone for 10-12 hours a day
SMS can include links to your website or social media page which you can monitor
SMS allows businesses to schedule their weekly or monthly promotions to plan ahead
Design Best Text Marketing Campaign now