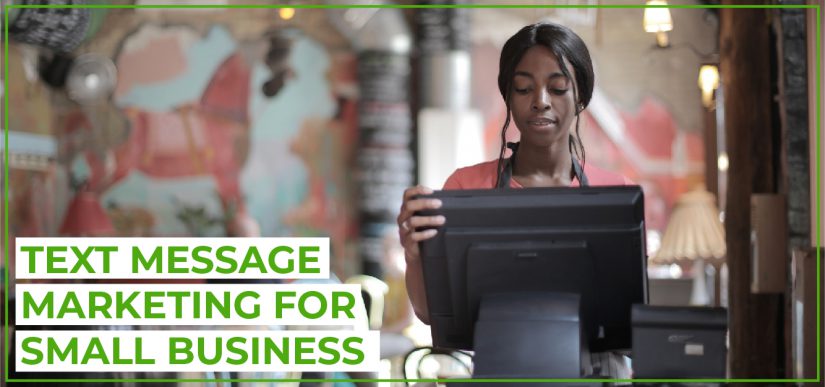 Text Message Marketing for Small Business: A Guide
Owning a small business means going through dips often. It is a very common thing to happen. However, giving up on the matter is the worst thing you can do to your business. Text message marketing for small business is one of the best ways to go about.
We have been in the text message marketing industry for quite some time. We see a lot of small businesses seeing this dip but recovering from it. The trick is simply to use text marketing smartly to bring about a change in your business.
This method is tried and tested. 75% of consumers find it more appealing if they opt-in and get business updates.
The keyword 'Opt-in' might sound tricky. However, with a few tricks of your own up your sleeves, you can bring leads to your business and make it work.
Let us dive into simple text marketing for small business solutions.
Small business – big tricks: Your guide to text message market for small business
Small businesses use text marketing because of the uproar text message can have. Everybody has a phone and they prefer using it over any other device. Hence, 67% of consumers prefer communicating with businesses via text messages to email or even phones. There are plenty of different ways to use this service efficiently.
Build your audience

The first thing you need is to build your audience. You have a requirement by law to send out marketing messages to only people who opt-in for the service. Ensure that they know what they sign up for and how many messages they will receive throughout the week or so.

Create an incentive for the signup. These incentives can be special discounts or even offers on registering for the service. You can make the opt-in as easy as having a unique keyword sent to a shortcode. These shorts codes can be shared or even dedicated. A unique keyword helps the customer remember it easily and gives a better image to your business.

Another way to invite your audience is through the QR code method. Print your dedicated QR code on pamphlets and everywhere else. Interested customers can sign up through it without much effort.

A lot of businesses make the mistake of not thinking about their website audience. Adding a simple widget can help them opt-in in under 90 seconds.

Take for instance the Seattle Sun Tan salon. The business advertised their keyword on several different channels to create an opt-in for text messages. The incentive was 20% off on their next purchase. The business managed to create a voluntary audience of 4,774 people in only 30 days. Moreover, they generated $196,101.87 in new sales.

Retention

Once you have your audience, it is time for retention. Bringing in more customers is important. However, you cannot forget the customers who are loyal to the brand. Retaining those customers becomes one step easier with text marketing.

One of the things you can do is to send out SMS polls. SMS polls and surveys help you improve your business by understanding what your customer requires. Use the data to make improvements to your business. Once you do, send out a blast to your customers that you heard them. This process helps customers build a relationship of trust, reliability, and loyalty. Adding an incentive to surveys makes them even better. Customers tend to fill them with just a click of a button on their phones and get something out of it.

Another way to retain customers is to send them updates on what you are up to. These types of messages help loyal customers keep a tab on their favorite businesses. This is also important to ensure that customers do not forget about you. Most of the time, this is the case. Moreover, it also tells the customers if you are still active since businesses tend to shut down too.

Personalize messages

One of the best things you can do is add a personalized touch to your message. In text marketing services like ExpertTexting, you can set and change variables so your customer finds a personal touch in the text message they get.

Personalized messages create a sense of loyalty and reliability. It works on a subconscious level and helps the business become more humane in their eyes.

Don'ts of text message marketing for small business
While text marketing is pretty easy and an efficient way to reach out to your customers, you can turn it around against you too. The following are a few things that you should NEVER DO. Some businesses do not even realize that they do it. However, you should be more conscious about it and keep your eye out.
Never spam

Do not send tons of messages to your consumers every day. Put yourself in the customers' shoes. Will you like to receive a message every few minutes? The receiver may block your number or may choose to opt-out for getting useless messages, in this way you may be loosing your potential customers.

Decide your frequency pre-hand. A maximum of one message per week is good enough to keep your customer in the loop. If you find that there is something your customer should know during the week, then two are good enough. Anything else is spamming.

Ensure that when your customer opts-in for text marketing, they know how many messages you intend to send. This is a requirement by law in the United States and many parts of the world. Moreover, they should have the option of opting out too.

All of this should be as clear as day in your terms and conditions.



Do not buy your audience
One of the worst things you can do for your business is buying a database to send out messages. The only ethical and legal way to build an audience is opt-in services. You can use any method like keywords, QR codes, or even widgets to bring people to opt-in. You can also set incentives for them if they sign up.

However, if you think that you can use purchased database to send out messages, you are in the wrong. You may even face legal problems if you do it.

Don't close doors

Consumers may not want to receive messages sometimes. Give them a way to opt-out. However, you do not have to set it in stone. Give them the option of unsubscribing through the keyword system.

They might even signup in the future if they find you worthy of their time.

Don't make it difficult to read

One of the biggest mistakes is having a language that is impossible to read. Receivers read and comprehend texts in about 30 seconds only. For a business, those 30 seconds are crucial since the consumer will make a decision.

Hence, your language should:



Easy to read
Short and precise. No wandering messages
Have a call to action for instant action


Don't sell all the time

The best way of the market is when the consumer doesn't feel it but is convinced. You should be marketing your business all the time. However, you cannot go in peoples' faces all the time and tell them to give you business.

Devise your messages in a way that people find your business interesting and worth spending money on. The text message market is saturated and if your text does not stand out, it becomes easy to ignore.

The best way around this approach is to talk to people. Treat your consumers as more than potential leads. Know that they are heard and spoken to at the same time.
Bottom line
Text marketing for small businesses is a very efficient way to promote your business and keep your consumers up-to-date. Of course, a lot of people find it expensive. However, using a service like ExpertTexting makes this easier and very cost efficient.