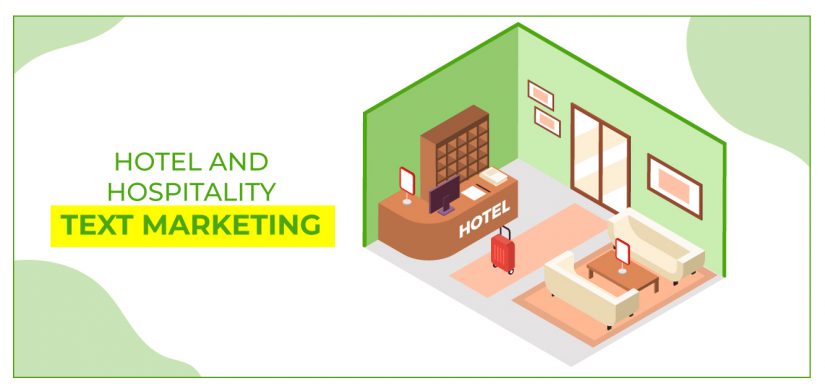 Hotel and Hospitality Text Marketing
The hospitality industry has grown vastly in the past couple of years. Like all other fields, it requires more communication between the consumer and the business to make it successful. While there are many ways that business owners have tried to achieve this, nothing beats Hotel and Hospitality Text Marketing.
Text Marketing is one of the most effective channels of communication. It has a whopping open rate of up to 98%. Moreover, most people always have their phones with them. Texting works even if you do not have a fancy smartphone. You do not have to download anything or sign up anywhere. As long as you have network bars, you can send and receive text messages.
For business texting, you need to stay on your toes and have a more organized fashion. This is why you need to use a text messaging service provider like ExpertTexting. ExpertTexting allows you to send mass texts for less than a cent each. Moreover, there are plenty of features to remain organized and respond to your customers in a timely fashion.
In this guide, we will tell you how hotels can benefit from text marketing.
Hotel and Hospitality Text Marketing Uses
Text marketing enhances communication while also promoting businesses. In an industry where the guest matters a lot, it is important to ensure that they have a way to contact you on the tip of their fingers. Wondering how hotels and hospitality can use text marketing? Here are a few ways to go from zero to sixty with text marketing.
Room dining services
Give your guests the convenience of getting their order right in one go. Enable two-way messaging with ExpertTexting so that your guests can text your business number back. To place an order or request something, guests can simply send a quick text message. This allows better communication instead of mishearing and forgetting stuff.
Since a lot of people prefer texting rather than calling, it helps them too. Guests can text from anywhere in the hotel and get their meals in time.
Upselling
Hotel and lodging are more than just a guest staying at your place. Hotels generally offer several services like spas, concierge services, and others at an additional charge. To cross-sell and upsell your hotel luxuries, you need to have more effective communication.
On a simple text message, your guests can book or request other luxuries. Moreover, you can easily track all the requests of the day and provide instant service.
Apart from luxuries, guests generally need toiletries, pillows, and other items frequently too. Allow them to send you a text to request this stuff.
Promotions
Don't limit mass texting to just communication with your guests. Invite people to sign up to your list so you can send them promotions about your hotel. Moreover, you can add booking links to your text messages with ExpertTexting. Use the link shortening feature to compress any URL to the fewest characters possible. Watch the video below to know more about link shortening.
Reviews
In the hotel and lodging business, word of mouth is more important than marketing. You can get these reviews from the guests that have stayed at your hotel and enjoyed your services. While many people write reviews, not everyone enjoys posting reviews. Send a mass text to your guests and request reviews. You can also offer an incentive when a review is posted. The chance of someone posting a review against an incentive is much higher.
Customer service
A lot of time, people are expected to visit or call the hotel for information. Why make it inconvenient for your guests? Simply allow them to text you their queries and you can respond to them. This will help save time and money on expensive calls.
How Does Hotel and Hospitality Text Marketing Work?
Contrary to popular belief, text marketing is pretty simple. If you are using a service like ExpertTexting, then you get to enjoy text marketing in a more organized and user-friendly fashion.
Beginning text marketing with ExpertTexting is a breeze. Here is how you can do it.
Sign up

Begin by signing up to ExpertTexting. ExpertTexting allows you to create an account for FREE without any card information requirements. Once you sign up, you get one-dollar free credit so you can test the service. When you are satisfied, you can upgrade your account to start sending messages.


Create and advertise your keyword

Your keyword is a short phrase or word that you use to allow people to sign up to your list. According to the TCPA, you cannot send messages to anybody except when they give your prior express consent. With this consent, text marketing remains safe and spam-free.

With ExpertTexting you can create unlimited keywords. These keywords act like groups. As the person sends the keyword on the number, they are automatically added to the list. You can then begin sending messages.

To bring people to join your list, you need to advertise your keyword anywhere you can. Put up flyers in your hotel, advertise in local newspapers, or even put them up on your website. Most people also prefer giving out special incentives or exclusive offers for people who subscribe to their list.


Send messages

Now that you have your keyword set, you can begin sending out your campaign. With ExpertTexting, you can enjoy personalizing mass texts by adding custom fields. Moreover, you can schedule recurring campaigns and even one-time messages.

Once your guests have your number, they can simply message you back. These messages show as one-on-one conversations to manage easily. ExpertTexting also allows you to forward messages to the number of your choice so you know when to reply.
Begin Hotel and Hospitality Text Marketing with ExpertTexting
ExpertTexting is a mass texting service that allows you to manage one-on-one conversations with your guests and also send promotional campaigns. With ExpertTexting you can send messages for less than one cent each. Moreover, we charge you by message. No more wasting credits on monthly and annual plans.