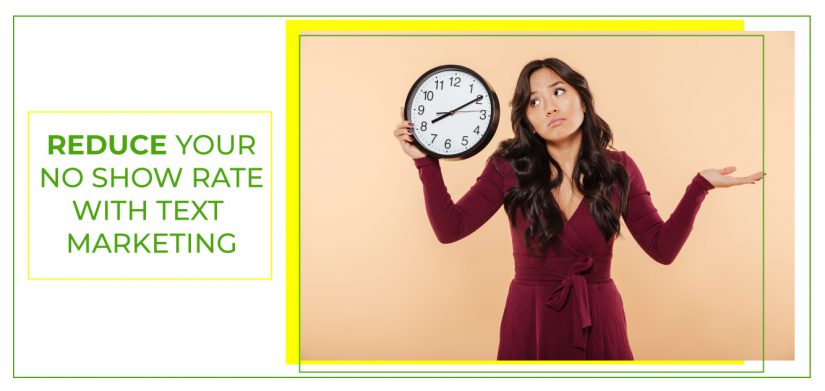 Reduce Your No Show Rate with Text Marketing
Whether you provide a healthcare service or run a salon, your no show rate should always be to the minimum. A study showed that salons and spas lost about $1.2 billion every year because of missed appointments. Another study showed that the Healthcare industry lost $150 billion because of no show of patients.
You may think that no shows are inevitable and you cannot fight them. However, you can find the root cause of no shows and work your way into ensuring that you avoid them.
In this guide, we will talk about no shows and how you can control them.
Why do people miss appointments?
Before we find a solution, we need to know the problem. Missing appointments is the outcome of the problem. However, why do people miss appointments is the first question.
A study was conducted that asked people why they missed appointments that they agreed to in the first place. 52% of people claimed that they forgot. Here we can clearly say the root of the problem is basic human error. This means that more than half of the losses are easy to cover if we have a solution to this problem.
Furthermore, the study showed that 28% of people noted the incorrect data and time of the appointment. This is once again a human error that can be worked around.
Only 20% of people claimed that they missed appointments due to an unforeseen situation including traffic. All in all, the no show rate of 80% is because of basic human error. Human errors are generally easier to deal with with the help of a computerized system. Hence, we know that the root cause is not very difficult to manage.
How to reduce no-shows?
Now that we know about no shows, we can find ways to reduce them. Here are a couple of things you can begin with to reduce those missed appointments.
Find a pattern
The first thing to do is to find a pattern in the missed appointments. Find out if a particular service of yours gets more shows than others. Moreover, find out the different days or timings that have a higher no show rate than others. In any way you can, you can find out the pattern.
The pattern will help you decide the nature of the missed appointment. Is it because of your business service?
If you are running a salon or a service with multiple people, then find out if the no-show is for a particular person. Once you do, you can go to the root of the problem and handle it tastefully.
Give several time slots options
When handing out appointments, make sure not to force the customer or patient. Ask them what time suits them most and work around it. Once you know the time and date they prefer, you can suggest multiple time slots around that time.
When you give your clients options, you allow them to flexibly fit in their schedules. Hence, it is less likely that they are busy and you can reduce their chances of not showing up.
Send personalized reminders
You may be doing everything right. You gave multiple time slots, you found your pattern, but still, your appointments are missed. The reason is that up to 80% of missed appointments are because of human errors. These include forgetting and noting the wrong date and time. Thankfully, you can work around this with ExpertTexting.
ExpertTexting is a mass texting service that allows you to send personalized messages. You can simply add your contacts to a list and personalize the message with their name and timings and send it. Watch the video below to know how you can send personalized messages with ExpertTexting.
Of course, there are several other ways to remind your clients like with phone calls. However, keep yourself in their position for once. Will you prefer receiving disturbing phone calls throughout the day? Another option is to email. However, emails tend to get buried under many spams.
Text messages, on the other hand, work best. The open rate is 98% and they are instant. Even if someone doesn't open them then and there, they can open them later. The message does not get deleted from the phone unless done manually. This allows the client to cross-check.
Moreover, you can send reminders a day before and even on the day of the appointment. This will help reduce the factor of forgetfulness.
Stress on attendance
Sometimes all your client needs are a push from you to show up. You can give them a special incentive to help show up. Moreover, you can also pre-charge to make sure they show up.
Another way to motivate them is through mass texting. Simply send a message to the appointments of the day and let them know you are waiting. You can add an incentive.
If your service comes with fears, you can also clear it out in the message. Moreover, this message can double as a reminder.
Make it easy to reschedule or cancel
A lot of clients want to cancel or reschedule appointments. However, the way to do it is may be lengthy. Hence, they just miss their appointment. If you make it easy for them to notify you beforehand, you can give the slot to someone else.
Since mass texting is two-way, it can help you with this. Simply inform your customer to text your business number in case they want to cancel or reschedule. When you are prior, you can give the slot to someone else and plan accordingly. This saves you from losses.
If you use a service like ExpertTexting, you can manage one-on-one conversations in a conversational view inbox. Watch the video below to know more.
Begin with ExpertTexting
ExpertTexting can help you reduce your no-show rate with text marketing. Reach out to your clients through mass texting and get instant ROI and reduces no shows.