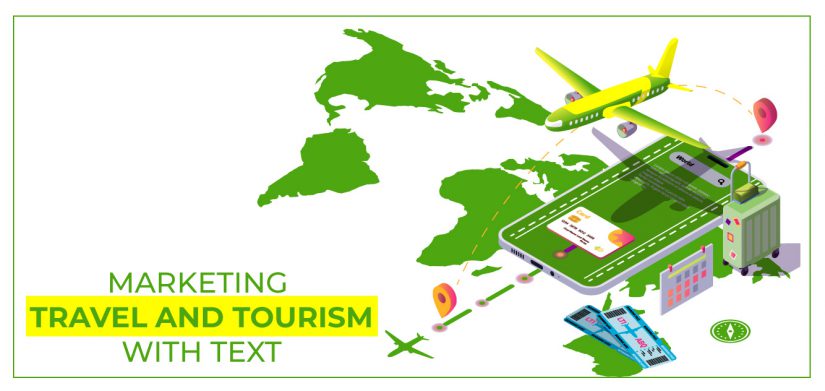 Marketing Travel and Tourism with Texts
Travel and tourism are some of the biggest industries in the world right now. In 2019, domestic and international travelers spent $1.1 trillion in the US alone. The global number is bigger. The effect of this allows better economies, better lifestyles of workers, and even more jobs around the world. Marketing travel and tourism are becoming increasingly competitive because of the vast saturation in the industry.
People travel for leisure, work, medical reasons, and many others. The world is a global village and it keeps getting smaller with easy access to travel. As a travel business owner, it may be getting increasingly difficult for you to market your travel and tourism business. The competition is rock solid. To keep up with it, switch to text marketing.
Text marketing works as the most versatile marketing channel for almost all industries. Industries with convenience or non-necessity products and services find text marketing the most suitable way to reach people. In this guide, we will tell you all about Marketing travel and tourism with texts.
How to use text marketing for travel businesses
One of the biggest advantages of text marketing is that you can use it as a communication method. Moreover, you send out texts to the interested parties only, which saves a lot of time and money. Let us see how you can use text marketing for your travel and tourism business.
Bookings and confirmations
Travel agencies can use mass texting to manage bookings and confirmations. This process helps to be more organized for you. Additionally, your customers can enjoy the confirmation service. One simple message helps customers have peace of mind of everything being in place. If you have a website for bookings, you can integrate the ExpertTexting API. It is a reliable way to send transactional messages. These messages are automated and sent out when a customer makes an action on your system.
To make this work, simply add all the relevant details in this message. Ensure that you have the correct date, time, destination, and other relevant details. When the time comes, all your customers will have to do is to look at the message to work around their bookings.
Reminders
People tend to make bookings weeks and months before they travel. While there are many advantages to this, there is one big disadvantage. Travelers tend to forget or mix up the dates and the times for this. Text marketing helps you give value for money to your customers. Once your customer does business with you, invite them to join your list. You can do this by putting up QR codes in your office. For websites, ExpertTexting gives you the option of adding a signup widget to your website. People can simply opt-in to receive reminders and updates.
Now that you have permission, you can send them reminders. When their travel days are near, send them a message with the details again. Sending these messages, a week, and a day before is the most beneficial. Give them time to prepare in case they forget. To be on the safe side, message on that very day too with one final reminder of the time. You can also add details like flight timings and when they should ideally be at the airport. Or, when they should reach the train station. All these help the travel calm down before they depart. Moreover, they can focus on things like packing instead of being worried about calculating the time.
You can also add additional information like their baggage limit. Or, the travel documents that they should be carrying. A simple reminder goes a long way.
Mass texting with ExpertTexting allows you to send these reminders in an organized fashion. You can make groups of people traveling at the same time. Or, you can segment them any other way. You can also add custom fields for each contact. Now when you send the message, they go out as one, but with custom information. Here is a video on how you can send personalized texts with ExpertTexting.
Etickets
Ever since we have entered the world of digitization, things seem to be more convenient for us. As a travel agency, it is your responsibility to use these techniques to make traveling less stressful for your customer. Tickets have transitioned into e-tickets. These first came about in 1994. Nowadays, they are more efficient and work better. With mass texting, you can send your customers their e-ticket which the airlines or even trains provide. These tickets usually contain a reference number, and also QR codes.
Sending e-tickets via email is the most common way that agencies use. However, the catch here is that you have to get it printed out and carry a copy. Of course, you cannot carry your computer for the sake of convenience. E-tickets via texting allow you to keep and download the ticket on your smartphone. All you have to do is show it to the relevant authorities and you are through!
ExpertTexting helps you send e-tickets via MMS. Simply attach the ticket and send it. Of course, your customer can carry a print-out. However, they don't need to. Moreover, since it is a thick chance that they are carrying their phone with them, they do not have to worry about leaving it on their coffee table.
Loyalty programs
Loyalty programs are perhaps the best way to bring a customer back to you. They work in every industry. Loyalty programs make the customer feel special. Mostly because there are exclusive deals and offers. When the customer sees worth in these offers, they tend to come back to get more.
For your travel agency, you can create different loyalty programs. You can use special prices for their bookings. Moreover, you can give exclusive discounts. Travel agencies generally give out miles or certain discounts to retain customers. Collecting credits for a while to redeem at a certain limit is another example of these programs. The limitations are almost endless.
Handling emergencies
Emergencies don't announce themselves. However, they seem to get worst when you are away from home. Text marketing comes in handy for travel agencies that send out tourist groups. Text messages are an instant form of communication. Moreover, they have a higher open rate.
With a reliable service like ExpertTexting, you can send messages in a jiffy to inform of an emergency to the tourist group. Add all necessary details and try to give them a solution to the problem. Moreover, with two-way texting, the travel can respond with their queries in times of trouble. You can instantly connect with them and help them out.
Changes in schedules
Sometimes flights and trains are delayed. Sometimes, they may be early. Regardless, it becomes difficult for the travel to track them through emails. They probably receive thousands of emails a day. The important changes are easily buried under spam and they may miss their departure – or even get too early.
In case of any schedule changes, you can send your customers a text with all the information. Keep them informed so they can plan and avoid panicking. Traveling is quite stressful, even if done for leisure. Take some load off your customers and give them value for doing business with you.
Feedback
By using text marketing, you have probably worked your way to make it as convenient as possible for your customer. It is time to use it one more time for your business. Once the trip is over, ask for feedback. Enable two-way communication with ExpertTexting so that customers can respond. You can use mass texting for polls or even full-on replies.
Use this feedback to make your service even better. If a customer has a complaint, find a way to resolve it and tell them about the change.
Begin with ExpertTexting
ExpertTexting is a mass texting service that you can use for your travel and tourism business. Use the new MMS beta version to send out your MMS. Additionally, you can personalize messages, schedule them, and even manage your database with groups. No monthly or annual plans that charge you more than you spend. A simple pay-as-you-go pricing helps you save money and text efficiently.